Innovation means change and renewal,
progress and improvement.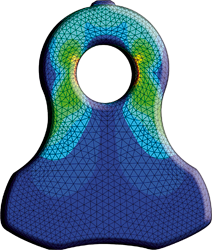 SWB stands for innovation.
Innovative materials and material combinations improve wear resistance. Innovative design increases part life and increases productivity.
With innovative manufacturing processes, we make products with a constant level of the highest quality. The working properties of our products guarantee our customers dependable and profitable use. SWB is and will remain the standard for international competition.
Centrifugal force
Strain simulations help us to develop optimal wear parts.
Good to know:
Hammers, anvils, grids, protection caps, impact elements, linings, ejection doors, wearing segments, grid segments, wearing plates, shear blades and other highly wear-resistant castingsfor scrap recycling used in shredders and scrap shears.